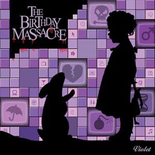 On July 20, 2004, The Birthday Massacre released a nine song EP entitled
Violet
, and at the end of the year, re-released "Nothing and Nowhere" with new sleeve artwork. Adm soon left thereafter to explore his own projects. In the fall of 2004, the band was signed to Repo Records in
Germany
, and released a remastered and expanded LP version

of "Violet" in Europe, including updated album art in a digipak case.
In 2005 the band signed to Metropolis Records and released the Violet LP with larger distribution. Owen joined on live keyboards and in August, the band began a series of international tours taking them to Switzerland, Germany, the Netherlands, Hungary, the Czech Republic, and Belgium. Also in August, a DVD consisting of the Dan Ouellette-directed video for Blue_(DVD) was released. It also included behind-the-scenes footage, interviews, a studio performance of "Nevermind," as well as live performances of "Violet" and "Video Kid."
In early 2006, the Birthday Massacre toured North America, playing across Canada, the United States and Mexico on their "Broken Minds" tour. They also played Europe and the U.K. in the summer of 2006.
Community content is available under
CC-BY-SA
unless otherwise noted.