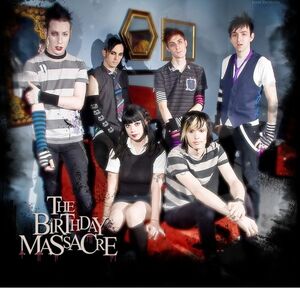 Welcome to The Birthday Massacre Wiki

Edit
The Birthday Massacre is a synthrock band, based in Toronto, Canada.
The group originated in London, Ontario under the name Imagica, taken from a novel by the author Clive Barker. The group's original line-up formed when childhood friends Rainbow (guitars and programming) and M. Falcore (guitars) met Chibi (vocals) and Aslan (bass) in college. In mid 2000, Dank, a long time friend of Chibi's, joined to play live keyboards. After months of rehearsals and writing songs, they played their first gig on October 28, 2000 at Diversity night club in London. The band released a seven-song limited edition demo CD at the show. There were 40 hand numbered copies of the demo which included the first recorded version of the song "The Birthday Massacre" (later renamed "Happy Birthday"). The following month, in answering an ad posted at the college, O.E. was added to play live drums. During this time, the band also met Rhim and Owen at the same college who would later join as drummer and keyboardist, respectively.
In 2001, the band relocated to Toronto, Ontario to begin recording as a four piece shortly after Dank left the group. There, they independently produced, recorded and manufactured another limited edition demo.
Shortly thereafter, the band adopted the name The Birthday Massacre, after a disagreement with a band dubbed 'Imajica'. In July 2002, The Birthday Massacre independently released a limited edition CD entitled Nothing and Nowhere. In 2003, Adm joined the band on live keyboards and Rhim on drums as the band began playing live more often. 2003 also saw the launch of their flash site NothingAndNowhere.com, designed by the band themselves.
For The Fans...
Edit
Please feel free to add any information regarding The Birthday Massacre. Any additions, corrections or help of any kind is not only appreciated, but encouraged.
Please note that this Wiki has been created by a fan for fans of The Birthday Massacre.
Community content is available under
CC-BY-SA
unless otherwise noted.